The craft beer revolution is here to stay – thanks in part to Brewhouse & Kitchen's 14-strong franchise of quirky microbrewery gastropubs.
They opened their latest (and northernmost) venue in Wilmslow, Cheshire – home of the Manchester footballer – in July 2016, offering residents of the affluent town something a bit different.
For fans of the Wetherspoons that had occupied the site for a number of years before its makeover, they'll be disappointed in the loss of cheap beer and even cheaper food, but for everyone else – this is a massively welcome addition to the Wilmslow hospitality industry.
Offering brewing experience days and beer masterclasses, Brewhouse & Kitchen have done well to tap in (excuse the pun) to the trend for craft ales – the beer Zeitgeist if you will.
There are no fruit machines, no sticky carpets, and no £5.99 meal and pint deals – barely a memory of what went before.
Instead the quirky interior design (there are doors on the ceiling) is reminiscent of some independent Brooklyn pubs – you could almost be in Williamsburg (Wilmslowburg? Anyone?)  It's no real surprise when you discover that MDs Simon Bunn and Kris Gumbrell were inspired to set up Brewhouse & Kitchen 3 years ago on the back of visits to the USA.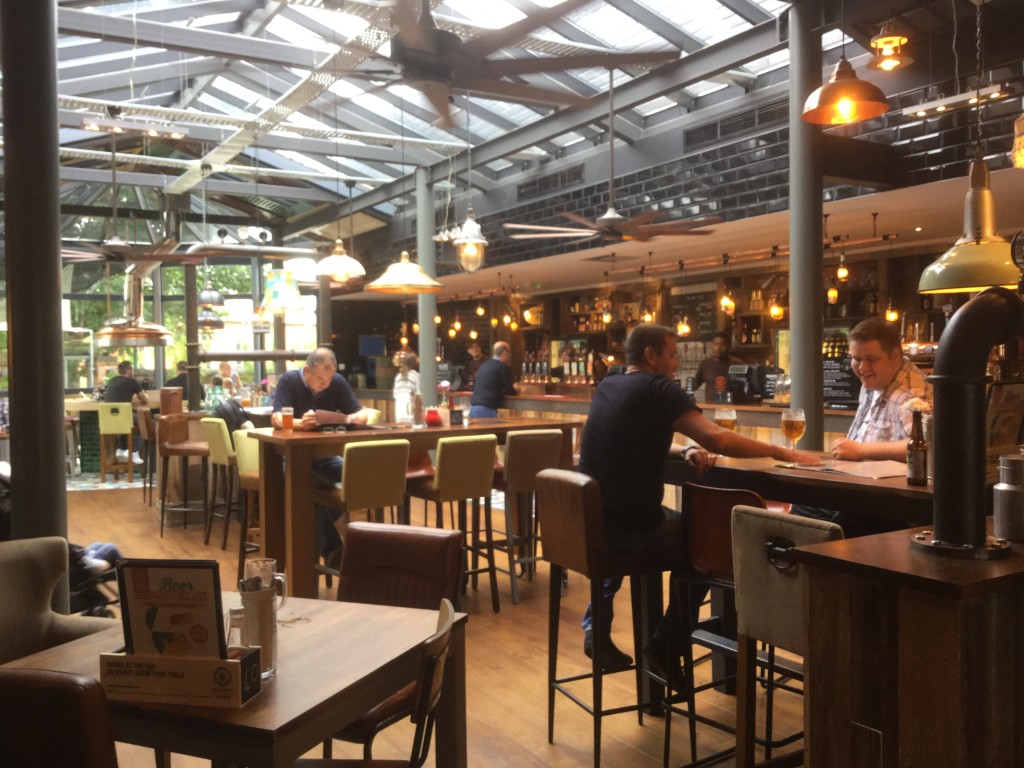 The interior follows the strict B&K code and designed by ABA Architecture brings a comforting familiarity – a blend of industrial and reclaimed.
The microbrewery housed within the pub building is capable of 1-2 brews per week with each brew producing around 360 pints at a time.  Bunn and Gumbrell shipped in their master brewer for this venture after falling in love with the venue when it was put up for sale by Wetherspoons.
Located so close to the train station I have a sneaky feeling this is going to be a roaring success, attracting trade from Manchester as well as the nearby towns and villages.
For more information visit http://www.brewhouseandkitchen.com/wilmslow
Latest posts by artmusoadmin (see all)