Take one part UK doodler and one part German art anarchist, give them a keyboard and a ukulele and sit back in wonderment at the music of Anxieteam.
This was the second time we were meeting up with Nottingham-based illustrator Jon Burgerman but the first time under the pretext of discussing his new venture, a band with pARTner in crime Jim Avignon, an artist and musician that believes in free art for everyone; we knew it would be entertaining.
We had an insight into Jon's work last year when he designed our cover artwork with what is still the most popular cover to date and it was a pleasure to find out about his musical talents and to get to know Jim, a German-born New Yorker who has form in both the art world and the music industry.
Jim's unorthodox approach to the art market has seen him giveaway 800 pieces of his art in a lottery at a museum that was covered in his paintings. He even gatecrashed Germany's Documenta exhibition and spent three weeks outside the building painting three metre canvasses before jumping through them, getting motorcycles to drive through them and otherwise destroying the art. It was, as Jim puts it, 'focussing on how the art market and the art world are connected, how the price of artwork creates the importance of the work.' His aim was to create the art, let people take photos for posterity and then take away the value of the piece by its destruction.
It was art that brought Jim and Jon together in a Brooklyn exhibition that Jon was originally scheduled to do as a solo project. However, after emailing Jim they agreed to do the exhibition together despite having never actually met previously. "It could have gone terribly badly. We decided that it wouldn't be a joint exhibition where one wall would be Jim's work and the other wall would be my work, that we would paint on each others paintings; a proper collaboration. It was a really fun week, we worked really hard but it was a pleasure to do so, who wouldn't love to do that for a week? Paint and draw and talk about things and listen to music, it was a real fun time."
While Jon admits he hasn't gone to 'some of the extreme lengths that Jim has done' when it comes to art anarchy, he does like to keep his work accessible – something our cover artwork is testament to. Jim is of a like mind and explained, "In my opinion art should be made for everybody; everybody should be able to afford it." This was no more so in evidence than in 2009 where Jim drew portraits of people at a Hamburg exhibition from his home in Brooklyn via Skype. "I could see people sitting in a booth. I did a drawing, a three minute portrait, and scanned it and sent it and they printed it out and took it home for free."
Art collaborations developed into music collaborations when Jim pitched the idea of forming a band to Jon who, after some deliberation, recorded the vocals in Nottingham, sent them to Jim in Brooklyn who put a song together and played it at a New York gallery's closing event. Jon tells us, "people seemed to like it and it went down quite well, so the next time I went to New York, I met up with Jim again and we just started doing stuff."
Although Jon insisted explaining their sound was a difficult question, he immediately gave us a pretty comprehensive description. "It's sort of low-fi electronic noises with erm, a smattering of ukulele, but we're very crafted, simple with catchy melodies underpinning it all. We try and keep things simple but very melodic and colourful in its music. I think we listen to lots of different genres of music and rather than taking something sonically from those as inspiration. I would say we get inspired by bands that leave you in a good feeling or that have a nice sort of quality to them rather than like ooh, try and make it sound like this or that. I mean, I'm not a super proficient, technical musician at all so I don't analyse music in a way that I try and replicate a certain technical element of it. I'd rather have a song that is memorable and you hum it to yourself or you enjoy listening to it, and it gives you a pleasant kind of experience for the short while you're listening."
With songs about eating Soya and being a cat, combined with unusual musical arrangements, we asked if there were similarities between Jon's art and the music. Was the music an 'audio doodle'? "Yea, definitely, stylistically, it's like a sonic representation of the way that I would work in a drawn manner, but it's a little different whereas I might do a drawing and it might take a minute, songs just by their nature, composing something and having a structure, it'd be misleading to call it a doodle. It's not like something's just plonked out and there it is, it might have a light feel to it but it's actually very meticulously planned and honed and polished and you know, made to work, which you don't necessarily have to do with an illustration, you can do a drawing quite quickly and it might magically just work. We definitely want the music to have a nice effortless quality, we don't want it to sound laboured, but actually behind the scenes they're very much honed."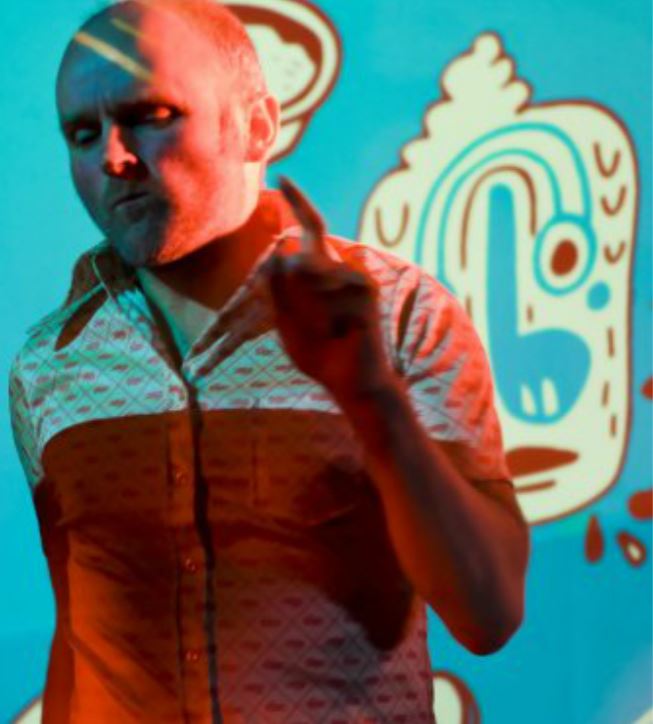 We knew the time was coming when we'd have to ask the inevitable questions of choosing between music and art. "I get asked that a lot", Jim explained. "The art is the one thing I'm kind of guaranteed to make a living from, but the music is the one that has my soul inside so er, sometimes people ask me if I'd prefer to be blind or deaf…" Jon interrupts by suggesting being poked in one eye and blocking up an ear as some kind of compromise which helped lighten the severity of Jim's revelation.
"Personally I would lose more if I couldn't do the music," he went on to clarify. "Doing the art is more like doing some kind of work, doing the big works is more like, I have to work now. So it's like, get up early, do the work. But with music it never feels like work, I always enjoy it. It's like you're looking for something, you don't know what it is and it's that moment you find it. It could be a tune, some weird arrangement idea, I really enjoy that process of finding it."
Jon's response was less surprising given what we know about him, "I love listening to music but playing it live and creating new songs with someone is fairly new to me." Given just how unfamiliar it was to be a musician and lead singer in a signed band, we asked just how scary it is to play live to people. "It is scary, I'm not a performer, I'm not a singer or a dancer or anything so to do that is very scary, but that's exciting. It's nice actually to do both, to have a period of time doing music and enjoy that and get excited about that and then you forget about some of the work of painting, you forget about some of that hard drudgery, and so when you go back to it it's fun again for a bit. So it's been good this year doing a little bit of each.
"I like the real time aspect of it, I've done a lot of live painting and I guess it's a similar kind of thing where you're creating something in front of people and that's exciting because every time it's a bit different and their reactions will influence how it goes, and that's nice to have that feedback, to see people's reaction to your work immediately, you don't get that so much when you have a painting on the wall… unless you stay in the gallery all day watching people's faces…"
"I think if you sing and stand on stage you learn something new about yourself," added Jim. "I think that's also a reason why a lot of artists started in music as well. It's a different way of expressing what's going on with you or what you want to say."
Before we let the guys get ready for their gig we asked them to tell us the story behind the band's name. "We did an exhibition together in Brooklyn, and for that Jon suggested the name Anxiety Room because Jon is a very anxious person. He sees dangers everywhere, and he thought from knowing my art I would be the same, but it turns out I am blind to any possible dangers (both laugh) so we did that exhibition about anxieties and it turned out to be not a very scary exhibition, it rather turned into a funny thing. When we came up with the idea to have a band we thought we'd stay with that theme and we played around with words and we liked the combination of anxiety and team like to present us as Jon's the Mr Anxiety and I'm the Mr Team, or like staying together and fighting anxieties. I don't know. It sounded good. We liked it. We took it."
www.anxieteam.com www.hellothor.com www.jonburgerman.com www.jimavignon.com
This article was first published in our partner magazine in November 2010.
Latest posts by artmusoadmin (see all)