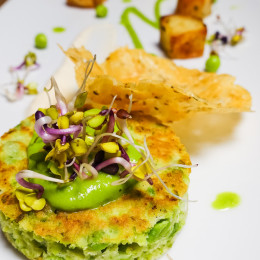 On a mission to cut down the meat and try more vegetarian meals we've created this pea-based dish in homage to the tasty British staple.  Perfect at this time of year too!
Pea Fritters with Parmentier potatoes, Parmesan Crisp, Pea puree, Basil emulsion, Horseradish creme fraiche, china rose and rambo radish sprouts.
This is a great summer dish, light and colourful.  Use vegetarian versions of Parmesan cheese and edible flowers instead of the sprouts to decorate.
Pea Fritters (inspired by healthylittlefoodies.com)
400g frozen petit pois
3 free range organic eggs
200g self raising flour
75g feta cheese crumbled
2 tbsp chopped parsley
Pinch of salt
Boil peas for 3-4 minutes and drain
Mix flour, eggs, and half the peas in a food processor to make a batter (add a splash of water if the mix is too dry)
Fold through the remaining peas, feta and parsley
Fry batter mixture in a splash of oil for a couple of minutes on each side until golden
For presentation, cut out a circle using a cookie cutter
Parmesan Crisp (inspired by myrecipes.com)
50g Veggie equivalent of Parmesan cheese
1 teaspoon thyme
½ teaspoon paprika
Black pepper to taste
Finely grate the vegetarian hard cheese and mix with thyme, black pepper, and paprika.
Sprinkle a fine layer of the mix onto a baking sheet or silicone sheet and grill for 3-4 minutes until golden.
Remove and leave for 30 seconds before cutting discs from the mixture – or break into shards when cool.

Parmentier potatoes (inspired by bbcgoodfood.com)
3-6 Maris Piper potatoes (or your favourite variety) cut into 1cm cubes
2-3 sprigs of rosemary finely chopped
Sunflower oil
1 tablespoon melted butter
2 tsp dried parsley
Salt and pepper
Cook the cubed potatoes in a frying pan in a tablespoon of sunflower oil stirring to prevent sticking.
Melt the butter and mix with the parsley
Transfer the potatoes to a baking tray and combine with the melted butter/parsley mix and sprinkle with the chopped rosemary and seasoning.
Roast in a hot oven for approximately 30 minutes shaking half-way through.
Horseradish Creme Fraiche (inspired by greatbritishchefs.com)
2 tbsp creme fraiche
1 tsp horseradish (or more to taste)
Squeeze of lemon
½ tsp paprika
Combine all ingredients in a small bowl and chill for 10 minutes
Basil Emulsion (inspired by gabekennedy.com)
Bunch of fresh basil
3-4 ice cubes
½ cup olive oil
Juice of ½ a lemon
Pinch of salt
Bowl of iced water
Blanch basil for 30 seconds in boiling water
Drop into a bowl of iced water to stop further cooking and retain the colour
Squeeze out the water from the basil and put in a blender with the ice cubes and oil
Squeeze in the lemon juice and pinch of salt if required and blend well
Store in a presentation bottle in the fridge
The emulsion will separate so shake before use.
Nutri bullets are great for blending this up.
Pea and Mint Puree (inspired by greatbritishchefs.com)
400g frozen petit pois
Handful of mint leaves
Knob of butter
Blanch peas for 2 minutes in salted water
Add mint leaves and leave for 2 more minutes
Drain (but reserve the water) and put in a blender
Add 100ml of the cooking water and blend
Add more water if required and blend to the desired consistency
Pass puree through a fine sieve (push through with the back of a ladle) to create a smoother puree
Add in a knob of butter and blitz in the blender
Put in the fridge to cool
We paired this meal with a Pinot (Pea-no) Grigio from Sainsburys.