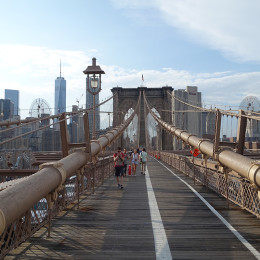 Ok excuse the topical pun but we need to let you know that New York isn't just all about Manhattan.
Sure, you have the famous landmarks, Central Park, Statue of Liberty, Times Square, Wall Street to name just a selection.  But you also have a very tourist oriented version of the wonderful, diverse, sprawling urbanisation of New York.
Sticking to Manhattan means you won't get to see the beautiful oasis that is Prospect Park – in our view a much more pleasant green space than Central Park.  You'll miss out on walking the Brooklyn Bridge at sunset and enjoying the delights of Dumbo and Brooklyn Heights, maybe taking in a pizza at the famous Juliana's (you might need to queue up!).
So here's our 5 top reasons for taking in Brooklyn over Manhattan.
1) Brooklyn Bridge
Ok, so it is possible to venture onto Brooklyn Bridge without actually going to Brooklyn, but it's hard to beat a stroll across the wooden pedestrianised walkway as the sun sets behind the Manhattan skyline and then end up in Brooklyn Heights or Dumbo (Down Under Manhattan Bridge Overpass) for a quick look round the shops before pizza at Juliana's (he used to own Grimaldi's and is the original Grimaldi, so don't be fooled into going to the wrong place as they are almost next door to each other!).
Word of caution while crossing the bridge – there is a section for pedestrians and one for cyclists, don't get run over trying to take a perfect picture because you've wandered onto the cycle path!
And once you've made it across, the views back to Manhattan from either Dumbo or Brooklyn Heights across the water are truly spectacular.
 2) Prospect Park
Manhattan's Central Park is ranked as the top thing to do in New York by TripAdvisor – but we believe that Prospect Park is superior for those looking for a retreat to nature in the midst of dense urbanisation.  With over 240 bird species sighted in Prospect Park, alongside turtles, bullfrogs, bats and the impossibly cute chipmunks, it's an urban nature lover's paradise.
The design and flow of the Brooklyn park is perfectly designed with a wonderful mix of open grassland, water, and forest. Lose yourself among the twisty windy undulating forest trails surrounded by birdsong and the chirping of the chipmunks.  Laze out in the sun on the mile long field and get some grounding on the lush grass, feeling the earth beneath your toes.
Prospect Park is smaller than Central Park, but more manageable to navigate.  And the neighbourhoods to the north and east are some of the best in the city.
3) Local Neighbourhoods
Away from the tourist trails are the Brooklyn neighbourhoods that make up some of the best parts of New York.
You'll feel more at home here than in any part of New York and the more relaxed atmosphere is the perfect antidote to a hectic day of sightseeing in Manhattan.  Parts of Brooklyn are among the most desirable in the whole of New York (Park Slope being ranked as New York's most desired neighbourhood) but it's still not recommended to just go anywhere.  Stick to the following locations and you'll be doing fine:
Park Slope
Prospect Heights
Carroll Gardens
Brooklyn Heights
Williamsburg
Greenpoint
DUMBO
Although many other areas are delightful and bring their own flavour to this lovely part of New York.
 4) Shopping/Dining
A day perusing the independent outlets dotted around Park Slope mixed in with a beer and a bite to eat in one of a number of fantastic bars and restaurants is a day well spent.
From Park Slope's main 5th and 7th streets, you are only a few blocks east from Prospect park and the weekly farmers market at Grand Army Plaza, outside the Brooklyn Library.
North of Prospect Park is Prospect Heights, another expensive brownstone neighbourhood with less going on but still some great bars and shops.  A trip to Cheryl's Global Soul is an absolute must – try the pancakes with chantilly cream and berries, with lashings of maple syrup.
Further north and only a couple of stops from Manhattan on the L train, Williamsburg is a key location for the trendy artist and hipster.  Lots of independent bars, stores and home to one of the biggest flea markets in the city, it is also home to the UK's very own world-famous doodler Jon Burgerman.
If mixing with hipsters isn't your thing then head down to Carroll Gardens – not completely dissimilar to Park Slope – but a little more affordable and with a distinctly Italian influence and plenty of leafy streets, cafes, and boutiques to enjoy.
5) Accommodation
It's generally cheaper to stay in Brooklyn than in Manhattan and downtown Brooklyn is under an extensive redevelopment with new hotels popping up all over the place. It's perfectly situated for walking distance to Carroll Gardens, Park Slope, Prospect Heights, and all the important and trendy areas.
You're also not far from the Barclays Centre for major sporting events including basketball and ice hockey (depending on the time of year) check before you travel for listings and tickets.
One of the new hotel developments Even Hotels has health and fitness at its soul, with free gym and fitness equipment in every room, weird fitness videos on the TV every time you turn it on, and a lovely range of healthy eating options in the bar/cafe on the ground floor.
The hotel is just steps from easy access into Manhattan on the subway and you can be at Times Square in 30 minutes, Wall Street in just 12 minutes (3 stops).
Even better, you are a few minutes from the main shops including an H&M, Banana Republic, Macy's, and a massive Century 21 (think TK Maxx for UK readers).
The Century 21 is located within a major new development that incorporates a cinema, shops and an incredible food hall named Dekalb Market Hall that contains all and every cuisine you can imagine and seems to be the go-to place to eat for locals.
So, in case you missed them, the five reasons are:
Brooklyn Bridge
Prospect Park
Local Neighbourhoods
Shopping/dining
Accommodation
Stay in Brooklyn and you'll be feeling like a local in no time.
Some helpful links below: