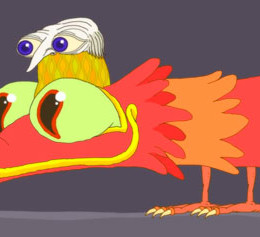 You may have seen his work lately, it has after all gone viral and spread around the blogosphere through the magic of the internet. Magic seems to be the appropriate word when describing Felix Colgrave's work, his animated videos are crafted like a wizard, filling them with a cauldrons worth of amazing and incredibly vivid art, riled through an intense imagination that transcends his own mind and brings little worlds & characters into life, playfully.
To show you a glimpse of this world, we've put some stills of his work within this article, and there's some links to his videos too.
Not for everyone… I'd imagine there are a few parents that would not like their kids to see his videos, shielding them in bubble-wrap, yet still there's something about Felix's work that is just brilliance. The young Australian's third year university project, The Elephant's Garden, won best Australian film at the Melbourne International Animation Festival 2014.
Quite the achievement we think. Not stopping there however, he has a range of shorts that you can check out on his Youtube page, the majority of which are mockingly humorous, albeit a tiny bit of dark humour thrown into the animation for good clout… aimed at the world's most contemporary issues though of course.
I mean when you make a video like The Pigpen, when you're 16 years of age, it's then hardly surprising that he's now getting further acclaim as a prerequisite to his animations.
He's an active little fella on Tumblr if you want to keep up-to date with his shenanigans and jesting http://feeldix.tumblr.com/ .