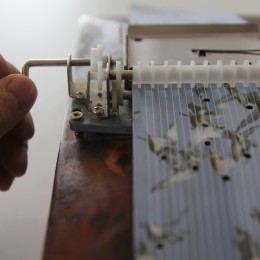 International artists meet local talent at the Enlighten Manchester Festival of Light and Sound Art nestled in the heart of the German Christmas Market at the Central Library and Bridgewater Hall this December 10th – 12th.
With over 15 installations plus performances and talks, the festival celebrates light, sound, and literature, as part of UNESCO's International Year of Light.
Boasting a world premiere of The Bremen Town Musicians, a music and live animation work inspired by the bestselling author Philip Pullman's new translation of the Brothers Grimm fairy tales, the festival features a number of internationally acclaimed and award-winning artists.
Light artist Paul Friedlander, audio visual artist Kathy Hinde, and light and sound artist Ulf Pedersen will all exhibit world premieres as they headline the event.
Local artists include Scotsman Poet of the Year Adelle Stripe, graphic designer Trevor Johnson, light artist Elisa Artesero and photographer Andrew Brooks. Neon artist Richard William Wheater is working with Manchester-based youth leadership project RECLAIM sharing young people's vision of what the city could look like in the future.
Following a successful pilot last year the festival will launch a new relationship with the extraordinary Manchester Central Library as the main venue to bring together exciting local and international talent, skills and energy with an ambitious programme after dark. Light works will also be on show at The Bridgewater Hall from leading audio visual artist Kathy Hinde and Liverpool contemporary composer Matthew Fairclough.
Andy Brydon, Curated Place and festival director said: "Being able to deliver the first full outing of a light festival in Manchester as part of the UNESCO International Year of Light with Central Library and The Bridgewater Hall is the best way we could launch a relationship with these brilliant venues.
"We're all looking towards developing the light festival as an annual event to inject some high quality public arts into Manchester's Christmas Celebrations. This year we have some of the UK's leading sound and light artists collaborating at the boundaries of their disciplines helping us develop the festival from a pilot to a major family event. Next year we're hoping for more."
Enlighten Manchester will take place on the following dates:
Thursday 10th December: 4.30-8.00 pm (with launch performance from Psappha and Enrica Sciandrone from 6pm)

Friday 10th December: 5.30-8.00 pm

Saturday 10th December: 5.30-8.00 pm
Locations: Manchester Central Library, Bridgewater Hall
Price: Free-£5, booking required for Manchester Central Library
For more information visit http://www.enlightenmanchester.co.uk/