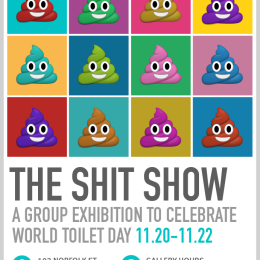 An exhibition not to be missed – if you give a shit about World Toilet Day that is.
November 19th is World Toilet Day – when charities like Wateraid and organisations such as UNICEF raise awareness of the 2.3 billion people (that's one in every three people on the planet) who don't have access to a proper toilet.
It seems remarkable that a third of the world's population don't have sanitation facilities given the standard of living we're used to in the 'West'.
Wateraid are hoping to pique interest with The Shit Show, a free, poop-themed interactive gallery featuring art from some of America's most acclaimed artists and something of a fun approach to a serious issue.
Currently confirmed artists include: Yoni Alter, Jon Burgerman, Nick Chaffe, Jhowee Chiang, Madeleine diGangi, Alan Foreman, Jacob Fradkin, Andy Gilmore, Dave Krugman, Anna Laytham, Mick Marston, Roger Mason, Caroline Melisa, Al Murphy, Alvin Ong & Cheri Ong, Diana Park, Robert Petrie, Matthew Reid, Ashkahn Shahparnia, Chairman Ting, Jessica May Underwood, Libby Vanderploeg and Susanne Walström.
The event is free to the public and will be held between 20-22nd November from 11am to 6pm at 103 Norfolk Street at Delancy Street – so if you're in New York then get yourself down there to experience the shit!
You'll have the chance to take a deep dive into the issue by interacting with various installations and viewing Wateraid's award winning film Across the Tracks. Artwork from The Shit Show will be available for sale to benefit WaterAid's water and sanitation programs in 37 countries across the globe.
Find out more about Wateraid in your country by visiting http://www.wateraid.org