It must be the most iconic city in the world and should be on everybody's bucket list.  If you've been before see what you think to our suggestions below and if you haven't then go book your tickets for September immediately!
It's not as expensive as you think – see our tips at the end of this article – and we've chucked in a bunch of free activities while you're over there so travelling on a budget is not a problem in the city that never sleeps.
1: New York Weather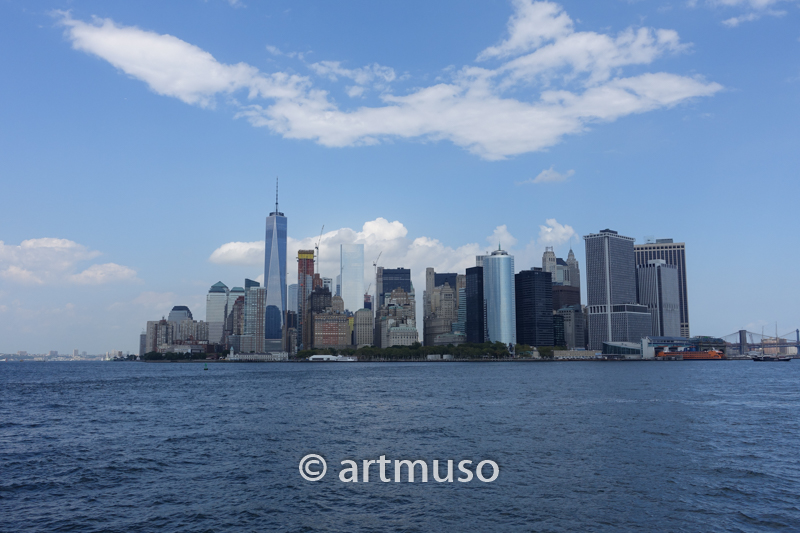 September sees the oppressive heat of the summer die down and a much more pleasant 75-80 degrees Fahrenheit (23-26 Celsius) with temperatures often peaking over 90 degrees (32 Celsius) in the early part of September.
While the subway stations can still be hot, the trains are air conditioned and if you're the kind of New York visitor that prefers to stay in Manhattan then you'll find the breeze flowing through the skyscraper-lined straight streets a little refreshing.
Pack light – shorts and t-shirts can usually be worn in the evenings as well in Brooklyn – but take a waterproof and something to wrap up in in case the nights get a bit chilly.  Sensible footwear (cross trainers are a good bet) is imperative to avoid blisters and sore feet. 
2: Sports
Americans love their sport and September gives you the best combination of events.  It's the final stages of the soccer season (New York Red Bulls playing out of the Red Bull Arena and the recently established New York City team whose home is the Yankee Stadium).
The New York Mets and New York Yankees are both seeing in the end of the baseball season while the NFL begins during September providing opportunities to see the New York Giants or the New York Jets.
For tennis fans the US Open runs from the end of August into September at Flushing Meadows in Queens and is the scene of the first ever Grand Slam title for Britain's Andy Murray.  Tickets are much easier to come by than for Wimbledon and it doesn't tend to rain as much.  The night sessions can run past midnight on occasion and offer a unique atmosphere for watching tennis matches.
3: Festivals/events
Arriving in September you won't be too late for the tail end of the various free summer music events and gigs (and the paid events at the big stadiums).  For example 2015 saw Beyonce play in Central Park along with Coldplay and Pearl Jam for the Global Citizen Festival.  There are endless other events around the city in September including:
Feast of St Gennaro – Held each year in Little Italy this 11-day festival showcases the best Italian cuisine and party atmosphere with live music and pizza and cannoli eating contests among the parades and cooking demonstrations.  All in honour of the patron saint of Naples.
New York Fashion Week – Not everyone's taste but for the glamourous among you then the glitzy New York Fashion Week may well feature highly on your agenda.  There are always a number of free events each year if you haven't bagged tickets to the A-list parties.
Film Festivals – September sees a glut of silver screen celebrations which incorporate: Harlem International Film Festival, Coney Island Film Festival and the biggest of the three – the New York Film Festival.
Broadway Week – Broadway gets into the September spirit with its annual two for one ticket offer. If you've got a Broadway show on your 'must see' itinerary then this option makes it more affordable.  (Important note: It might still be possible to get cheaper tickets from the TKTS office in Times Square if you're prepared to chance it on the day).
4: Sales/shopping
Labour (Labor) Day sales to get rid of the summer clothing lines and bring in the winter collections mean an opportunity to pick up a bargain or two. Century21 is a bit like a massive TKMaxx over 5 floors while areas such as Park Slope in Brooklyn feature plenty of independent stores if the Manhattan madness is not your shopping scene.
The pound is still relatively strong against the dollar so there's plenty of opportunities to bag a bargain (or even to bag a bag!) from the huge department stores such as Macy's (the biggest in the world), Bloomingdales, Barney's, or try a spot of window shopping from the pricey boutiques along 5th Avenue stretching from the Upper East Side down to Midtown.
Markets – Brooklyn is home to dozens of markets throughout September and among the biggest are the Brooklyn Flea (incorporating Williamsburg and Fort Greene flea markets), Smorgasboard (a food flea market), and the Grand Army Plaza Greenmarket.  Chelsea Market near the High Line in Manhattan is worth a look as well.
5: Free Sights
Ok so technically these are available all year round but September is a great time to experience them.
Parks – Both Central Park and Prospect Park (Brooklyn) are spectacular feats of environmental design and engineering with rolling fields, forests, lakes and zoos, they are both worthy of a stroll barefoot in the September sunshine. (There is an entrance fee for the zoos).
Brooklyn Bridge – probably our number one attraction in New York a visit is not complete without a walk across the 1.8km iconic structure built in 1883.  Aim for just before sunset to get the shots of the sun descending behind the Manhattan skyline, or very early in the morning for a photo uninterrupted by commuters and tourists.  Once you arrive in Brooklyn head for pizza at Juliana's just a block away (ok we know this bit isn't free).
9/11 Memorial – a very solemn and moving tribute to the events of September 9th 2001 – the 'footprints' of both towers of the World Trade Centre have been retained and transformed into a water feature with all the names of those that lost their lives in the tragedy.
Grand Central Station – You'll have no doubt seen this in countless movies and photos but there's nothing like the real thing.  A huge train and subway station Grand Central contains a food market, bars, restaurants, shops, and much more.  Get there at rush hour for the craziest experience.
Staten Island Ferry – A free ferry service that runs past the Statue of Liberty giving you ample opportunity to get your classic NYC holiday snaps.  Don't waste your time walking around the island unless you've got tickets up in the crown.
Chelsea Galleries – Dozens of completely free galleries available for your perusal in Chelsea, Manhattan between about 20th and 27th streets and 10th to 11th Avenue.  Not open Sundays and Mondays but turn up on a Thursday evening and you might find yourself in the middle of opening night for the latest exhibiting artist.
The High Line - An old elevated freight train track along Manhattan's west side has been transformed into a 1.5 mile urban park with planted areas, water features, and several seating areas for watching the world go by on the streets below.
Wall Street / Financial District - While you can't actually get in to the see the trading on the stock exchange you can walk around the Wall street area with your head pointed up at the seemingly endless rows of skyscrapers or wait patiently to get your perfect snap at the statue of the bull of Wall Street – don't forget to look up!
Almost free:
The Metropolitan Museum of Art (The Met) and the American Museum of Natural History face each other across Central Park and both have pay what you want schemes.  While they suggest a $25 and $27 entry fee for adults respectively, you can actually pay anything you like.  Of course, we recommend that you pay what you feel you can afford but the schemes are a great way to make the museums accessible for all.
If you don't think you'll get round the whole museum in your visit or you're only interested in one or two exhibits then you might want to pay less.  If you find that you've enjoyed your visit so much then you can always pay more on the way out!
If you only have time for one then it's a no-brainer – The Met wins hands down and don't forget a glass of wine or a cold beer on the roof terrace overlooking the park.
New York City on a budget?
Getting there:
We tried Norwegian's new transatlantic flights on the Dreamliner 'planes taking 7 hours from Gatwick to JFK with prices from £199 each way (plus luggage and food on board).  Don't expect endless free alcohol or first class service but expect comfort and great in-flight entertainment systems.  Another option would be Virgin from Heathrow who appear to have reduced their prices to compete with Norwegian.
Staying there:
Use Airbnb (possibly one of the greatest ever Internet innovations) and bag yourself some affordable accommodation ranging from around £40-£60 per night ($60-$90) in the best areas of Brooklyn (Park Slope, Prospect Heights, Brooklyn Heights).  Find somewhere with kitchen access so you can make your breakfast or pack lunches for more savings.
Eating there:
Eating out doesn't have to be expensive – particularly at lunch as you can grab a hotdog or a slice of pizza for around $2-$3 to keep your energy up.  Mains at reasonable restaurants in Brooklyn should set you back around $12-$18 (£8-£12) and look out for the happy hour offers to get cheaper beer as it can be expensive – although the local beers are much stronger than your typical English ale.
Travelling there:
The subway is incredibly cheap and a 7-day pass is only around $30 (£20) for unlimited travel anywhere in the city.  Are you reading London?!
Even cheaper is walking – and you'll do a lot of it.  It's the single best way to experience the sights, sounds and smells of the great city and it's well worth investing in some decent trainers to get you safely through the miles and miles you'll inevitably walk (great for burning off the pizza, burgers, and beers!)
Have fun – don't forget to tip!
Latest posts by artmusoadmin (see all)