We caught up with a select group of brewers and pubs who rose to the challenge of answering some beer-related questions to give you an insight into the craft beer movement, tips for home-brewers, and what food you should be co-ordinating with your drinking session. The Kernel Brewery, Redemption and CRATE are all based in London, while Sixpoint and Pacific Standard call Brooklyn home.
What do you think is behind the recent rise of microbreweries and is it here to stay or just a trend?
KERNEL: It is here to stay. And will grow.
SIXPOINT: People have simply realized that there's more to beer than "fizzy yellow water", and they've been active (and inspired) participants in the craft beer movement. The craft beer world will continue to evolve as it always has; tastes will continue to change, new formulations will be embraced, and the finest liquids will prevail.
REDEMPTION: I think a lot of it is about localism and consumers wanting independent products where they feel more of a connection with the producers. I think there has also been a willingness for beer drinkers to be more adventurous and the quality of beer being produced by microbreweries has improved immeasurably over the past decade. Breweries like Thornbridge, Darkstar and Brewdog have also been instrumental in leading the way and exposing people to great beer with good modern branding helping to attract people who otherwise may not have thought about drinking beers produced by microbreweries.
PACIFIC: Craft beer is definitely not a trend. It's an example of a larger movement towards better and more socially responsible food and drink. Local, sustainable, and small-scale agriculture, including beer, is something that people are going to be continually interested in because it simply tastes better and has the added benefit of helping the environment as well as environmentally conscious producers.
CRATE: The catalyst for the rise of microbreweries can be attributed to people rediscovering that beer can be hearty and flavourful, and that it comes in so many differing varieties. The variety of beers offered by microbreweries offsets the stock standard bulk brewing of the larger breweries. Now that people have sampled craft beer, I believe a lot of them would struggle to return to the larger, blander, labels.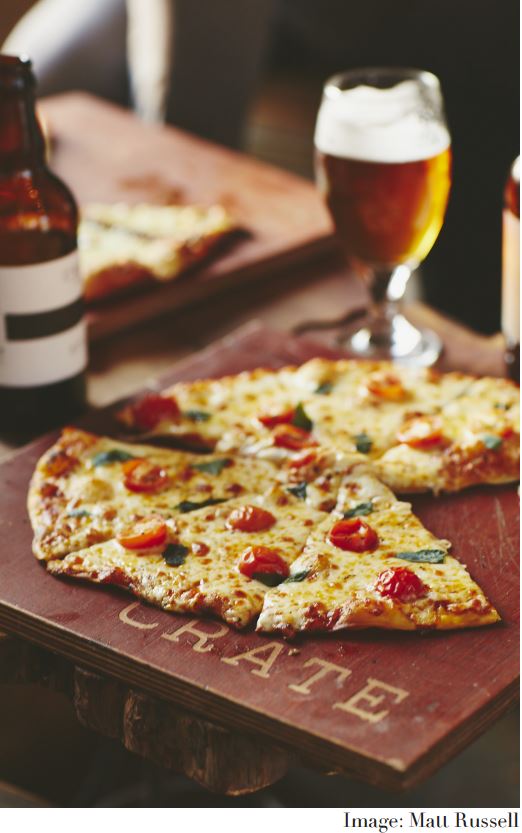 What's the key to brewing a good beer and what tips can you give to keen home brewers?
SIXPOINT: The first step is to learn to understand what you like to drink, develop your palate and be adventurous. For home brewers, time on task (our founder had compiled 1000+ homebrew recipes before starting Sixpoint) and attention to every part of the process – and of course the outcome – is absolutely crucial. It is, after all, Mad Science.
REDEMPTION: Cleaning and attention to detail. If you get the basics right you can produce good beer. The science will get you a long way to a drinkable pint but the art of brewing will be developed through experience and have a good palate so you can refine your beers and really bring out the flavours and aromas you are after. Tips to home brewers – clean well have patience.
CRATE: For us, the key to brewing good beer is a combination of using nothing but the best ingredients, and putting a lot of love, care, and passion into it. For the home brewing crowd, I think the best tip is to do what they want to do, and experiment.
KERNEL: I can't say that I've identified any constants across the good beers that I have drunk, apart from the obvious ones of attention to detail, and carrying the right attitude towards what you do.
How do you decide what to call your beers?
REDEMPTION: Depends on the style of beer and our mood whilst brewing them! KERNEL: They are named after their style. And the hops involved, if appropriate; nothing more.
SIXPOINT: We find ideas along many parts of the formulation process; everything from the flavor to the appearance to the moment the idea was conceived. We've named beers while on clandestine photo shoots, in deep caverns of ancient breweries, and even during video game battles. Inspiration strikes at unlikely times!
CRATE: The style across our business is to not over complicate things. This can be seen in our hand built bar, on our labels, and in the names of our beers. We like to keep things simple and obvious, while also creative.
What's the best food to accompany a beer session?
PACIFIC: In my opinion, there's nothing better than savory Indian food to offset the bitterness of a hoppy beer. But if you want something for a snack at our bar, I'd recommend either our handmade San Luis Obispo beef jerky, which puts East Coast "liquid smoke" jerkies to shame, or our San Francisco "It's-It" ice cream sandwiches, which go very well with darker beers.
SIXPOINT: Unless you eat the same meal every day, your beer / food pairing should probably be a constant conversation. That said, a good curry with an IPA has always struck our fancy.
REDEMPTION: The obvious one is an IPA with a curry, but I'm a big fan of fish and chips and a good 'sessionable' pale ale.
CRATE: CRATE is not only a brewery, we're also a pizzeria. Pizza is a perfect complement to beer. A sage and truffle pizza is the perfect companion to our IPA.
Brewery Profiles
Crate
CRATE Brewery came into being when Tom and Jess, local restaurateurs with the Counter Café, combined forces with Neil, a specialist brewer, and was opened in July, 2012, just before the Olympics kicked off. In keeping with the artistic and creative ethos of Hackney Wick, the largest community of independent artists and art studios in Europe, CRATE Brewery's converted industrial interior is one of a kind and has been crafted by local designers who reused reclaimed materials from around the Wick. To accompany its range of drinks, CRATE serves up seven different delicious types of stone baked pizzas, including Sage & Truffle Potato, Middle Eastern Lamb, Sweet Potato, Gorgonzola & Walnut and Lemon Chicken Tajine They are online at www.cratebrewery.com or Twitter @cratebrewery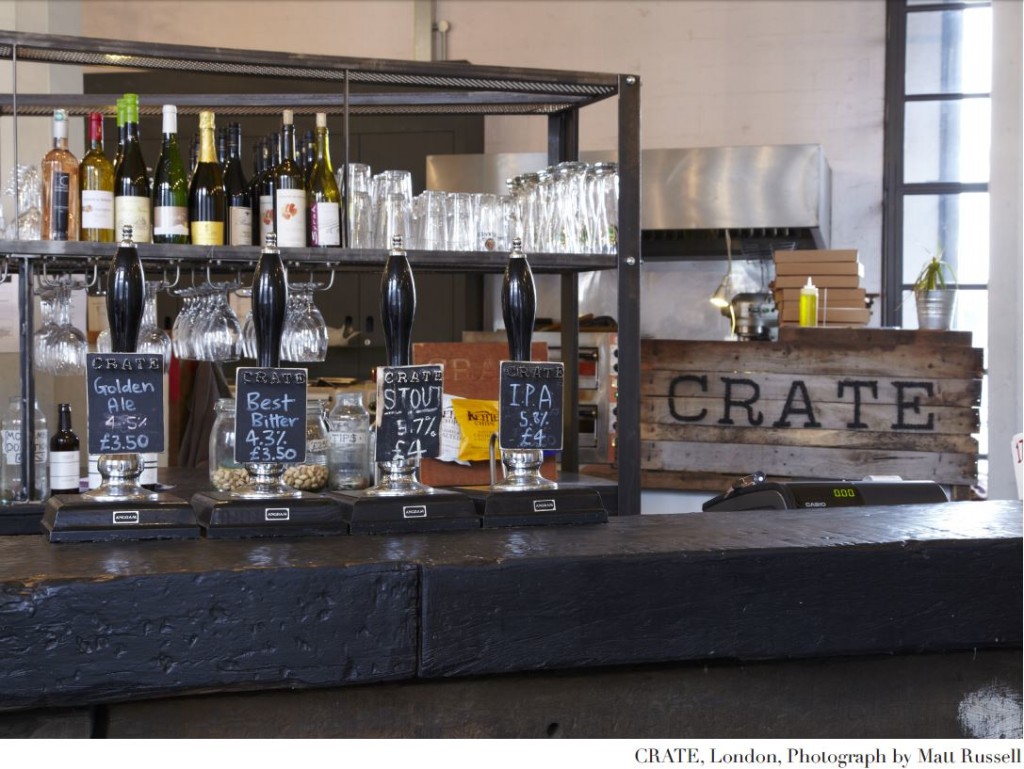 Sixpoint
Sixpoint was established in 2004 when the Brew Crew resurrected the Sixpoint Brewers' Star, as they set up a patchwork of brewing equipment in an 800 square foot garage in a then-dilapidated neighborhood of Brooklyn, NYC called Red Hook. It's a grassroots upstart brewery founded by a dedicated home brewer. Sixpoint secured a distribution deal throughout Wetherspoons pubs in the UK this year and have three canned varieties available, The Crisp, Sweet Action, and Bengali Tigerand all three pack quite a punch. Find out more at www.sixpoint.com or on Twitter @sixpoint and they also have a beer finder app that you can download from www. sixpoint.com/app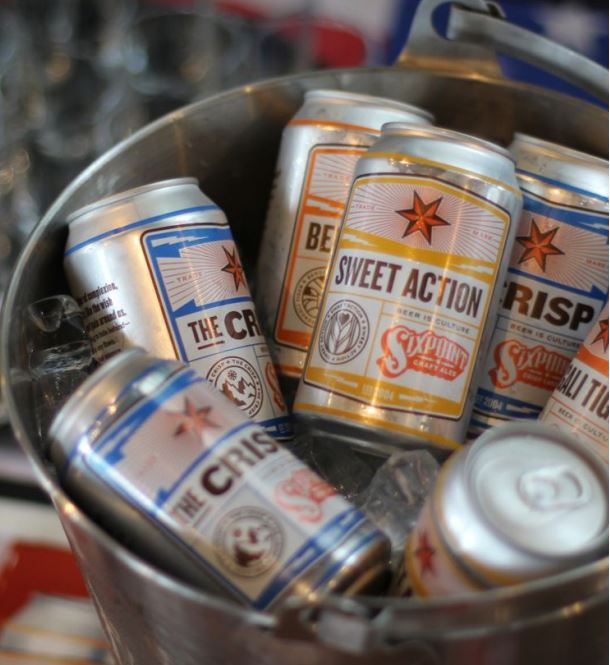 The Kernel
Set up in 2009 The Kernel Brewery in London was established with, according to Evin O'Riordain; 'hard work, lots of love, and belief that it was worth doing – with lots of help from friends.' They say their beer 'forces you to confront and consider what you are drinking' and you can try it for yourself from the brewery in London every Saturday between 9am and 2pm or they'll be at the Independent Manchester Beer Convention www. indymanbeercon.co.uk in October 2014. Look the brewery up at www.thekernelbrewery.com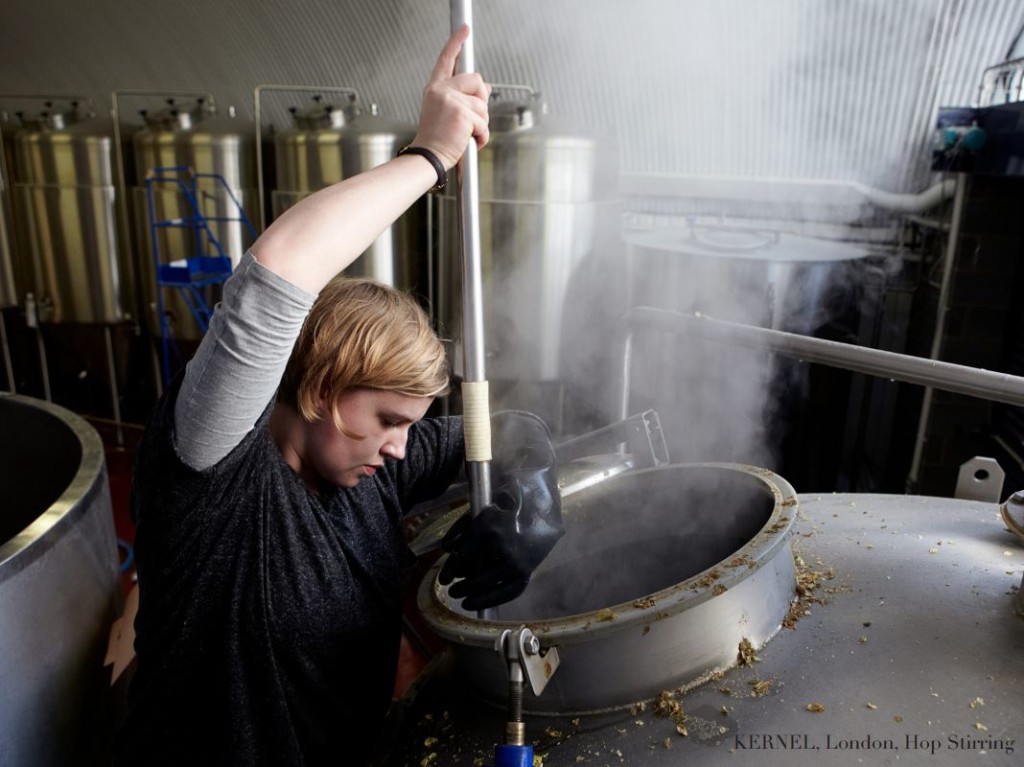 Redemption
Redemption was started in September 2009 and the first brew was ready in January 2010. The brewery was started by Director Andy Moffat at a time when there were very few breweries still left in London. Andy wanted a brewery in North London as there had not been any brewing in North London since Pitfield had moved out many years previous. With a 'green' approach to business, their water comes from the local reservoirs in North London's Lea Valley, an area of natural beauty and tranquillity, and the brewery's spent grain and hops are donated to local allotments to be used as compost and horse feed You can find the award winning beers in dozens of pubs across London and the South East or buy online at www.redemptionbrewing.co.uk Twitter: @redemptionbrew 
Pacific Standard
Opening for business on 5th September 2007, Pacific Standard was a 'West Coast transplant' to New York. The owners, Jon Stan and John Rauschenberg, wanted to replicate the feel of a Northern California bar in New York City, complete with West Coast microbrews, West Coast sports, a library, and other touches to make it feel like a laid-back graduate student bar. It was something that, at that time, they say was sorely lacking in the New York City bar scene. Located on Fourth Avenue in Brooklyn the microbrew pub opens until 4am every night with a range of events and even a frequent drinker program! Have a look at www.pacificstandardbrooklyn.com or follow on Twitter @pacificstandard
This article was originally printed in August 2014 and all information was correct at the time of printing.
Latest posts by artmusoadmin (see all)